We are proud to offer the following services:
Residential Moving
Packing
Unpacking
Disposal
Truck / POD Loading
Truck / POD Unloading
Office Moving
Don't see what you're looking for? Give us a call. We might be able to help.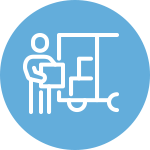 Packing
Broad Street Movers has the experience necessary to pack your items safely.  Last year we packed over 8,500 boxes for our clients.  We used over 300,000 feet of tape and more than 3,500 pounds of packing paper to do so.  We can pack a few fragile items or an entire home.  Everything from grandma's china to your high school yearbooks.  We can bring all of the supplies we might need or we can use yours.  We can even deliver supplies if you want to get a headstart.
Full Service Moving
Whether you're moving a studio to East Passyunk or an entire home in Fitler Square, Broad Street Movers can help!  We can send a small van to help move your winter wardrobe to storage or we can send 3 trucks to split up an entire estate.  Each truck is fully stocked with moving pads, equipment and of course some of the nicest people that you'll ever meet.  While our standard crew is three movers we can send anywhere from 2 to 6 people depending on the job.  We can also help you load your rental truck or POD.  We are also one of the few moving companies in Philadelphia to offer different levels of coverage for your items while in our care.
Office Moving
The best office move is the one that you barely remember.  Broad Street Movers can get your office moved quickly so that you can get back to work.  We can send the right equipment to make sure that you're up and running with minimal disruption to your operations.  We have the necessary insurance to work in any building in the city.  We'll work with you and the building management to make sure that everything goes smoothly.  For larger moves we can provide a project manager to make sure your office move is stress free.
Disposal
Less is More! And now with our disposal services Broad Street Movers can make that a reality.  We are available to take away any unwanted or unused items for you.  We can do this for you during the pack day so your move is more efficient.  We can take away items during the move day if they won't fit in your new home.  We can even come back after your move is over to take away any items that won't work in your new space.  We can even remove our packing material.  As a bonus we always recycle all of the cardboard and packing paper.  When possible we work with 3rd parties to donate / upcycle items so they stay out of the landfill.
Truck and POD Loading
Broad Street Movers can help you load or unload your rental truck or POD.  We offer loading and unloading services so you can hit the road faster.  Whether you need help loading a UHaul in Rittenhouse Square or you need us to unload your POD in Fishtown, we have the experienced movers and proper equipment for the job.  We can even take your goods to the PODS facility if they can deliver a POD or trailer to your street or driveway.